The Industry in the 21st Century
The British knitting industry has been in decline since the mid-1970s. Post-war employment peaked at 159,000 in 1973-4 and then started to fall.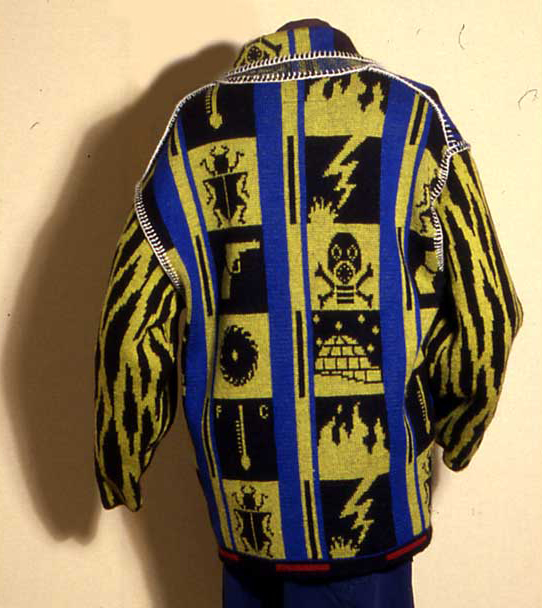 The figure fell below 100,000 in the early 1980s, 50,000 in the mid-1990s and reached around 30,000 in 2002. Periods of bankruptcies and closures in 1979-82, 1989-91, and 1998 to present (2003) have led to many of the job losses.  An estimated two-thirds of employees still in the industry are women.
East Midlands cluster
Despite the fall in employment in the knitting industry, the East Midlands remains, in terms of numbers employed, the largest clothing cluster in the UK (23% of UK employment in the industry).  The UK itself is second only to Italy in terms of output in Europe.  The East Midlands industry is concentrated in Leicester, where ethnically owned businesses provide nearly half of the employment in some sectors.  Nottingham has approximately half the number of employees as the Leicester industry, although it has larger firms than Leicester.
Relationships with retailers
The direct relationship between manufacturer and retailer, as promoted by Marks & Spencer, continues to exist for around 50% of large companies.  Relationships often involve long production runs, input by the retailer to the design process, and frequent deliveries to the retailer.  Low cost producers from overseas have forced companies to look at new ways of working with retailers.  Costs to the retailer have been reduced by the use of 'just in time' production (small quantities of stock delivered regularly from the manufacturer to the retailer before stock in the shop runs out), which minimises stock levels and avoids the need for surplus stock to be sold off at a reduced price.
Smaller manufacturers have focused on sales of goods to low price outlets including markets, small retailers and wholesalers.  Mail order, small retail chains and retailers requiring rapid stock turnover also provide sales for small companies in the industry.
Niche markets
The knitting industry is leading the development of technical textiles in the East Midlands.  Technical textiles have specialised uses for industrial or medical purposes.  The properties of knitted fabrics have been used to make medical implants for use in operations.
The high quality end of the market has provided security for some East Midlands companies. For example, John Smedley, Pantherella and Commando Knitwear have focused on the production of high quality knitwear, socks, hosiery, and underwear.  Attractive designs, high quality yarn and strict attention to detail enable these companies to produce premium products.  Export markets are often important sources of income for these companies.  Across the industry only 20-30% of companies actively export their products.