Seamless Succeeds
Since the introduction of the wide frame in the late eighteenth century, the traditional fully-fashioned sector of the knitting industry faced competition from cheaper products.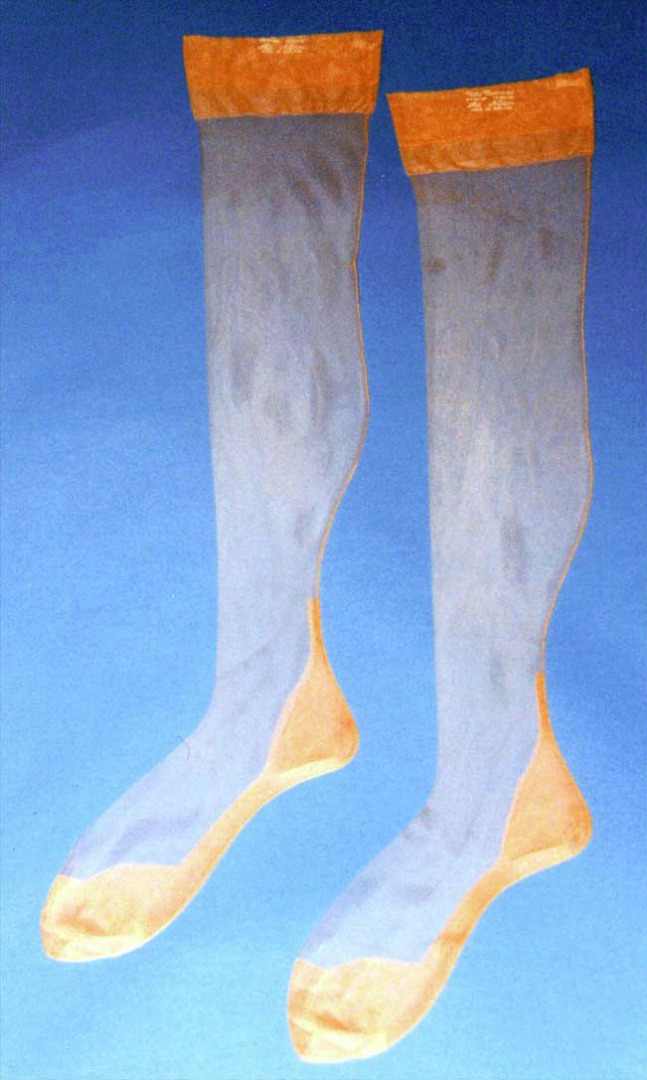 Wide frames were used to produce a knitted fabric that was cut into the shape of a garment and sewn together.  The Luddites protested against cut-ups and complained that they were inferior garments.  In the middle of the nineteenth century, circular knitting machines produced continuous tubes of fabric of various diameters.  Large tubes were cut up like wide frame fabric, while small tubes were finished to form stockings, socks and other objects.  The leg shape of the stocking could be achieved by placing it on a board and steam pressing.  These were also seen as inferior as they lost shape after being washed and reverted to the tube shape, bagging round the wearer's ankles.
Seamless improvements
The circular knitted stocking was technologically improved by the use of nylon.  The thermoplastic properties of nylon meant that when placed on a shaped board and heated the yarn softens, and permanently takes on the shape of the board when the heat is removed.  Unlike steamed natural fibres, heated nylon stockings did not lose their shape when washed.  Technology had reached the point where the quality of seamless stockings could rival fully-fashioned stockings.
The production process for seamless stockings was further improved by the introduction of the Italian Zodiac 4-feed circular knitting machine in 1961. The machine knitted a total of four threads at one time and thereby drastically reduced the time it took to produce a stocking. A single feed machine took fifteen minutes to produce a stocking in 1950, but with the four feeds and further improvements in the technology, the time was down to thirty seconds by 1980. The invention of this circular machine marked a milestone in the development of the Italian knitting machine building industry, which soon dominated the European industry.
The introduction of 4-feed technology was closely followed by an advertising campaign in the USA by the country's biggest manufacturer of seamless stockings, Hanes Hosiery Corporation. The campaign persuaded women to change from fully-fashioned hosiery to seamless. The quality and cost of the seamless stocking combined with advertising led to rapidly increasing sales while orders for fully-fashioned stockings collapsed.
Fashioning a future
In a panic response, major British firms sold off or scrapped their fully-fashioned machines and invested in circular knitting machines, others went out of business. Firms like Corahs dealt with the crisis in a less dramatic manner and converted some of their fully-fashioned machines to other areas of production, such as outerwear. Smaller companies also diversified to produce various fully-fashioned garments and benefited from the sales of cheap second hand machinery. Richard Roberts converted machines to produce ladies' jumpers and twin sets.
Pretty profits
One of the most successful companies in the industry during this period of change was Pretty Polly, based in Sutton in Ashfield, Nottinghamshire. Brian McMeekin, the entrepreneur who headed the firm, recognised the potential of the new Italian machines and invested heavily in them. By 1965 the company produced 60,000 dozen stockings a week compared with 10,000-15,000 dozen of an average seamless manufacturer. The company increased its weekly output to 250,000 dozen by 1984. To sell this huge output, the company promoted hosiery sales in supermarkets. Story of Leicester Visit Leicester Leicester City Council Twitter