Technology N - Z
From Narrowing to XL Circular Knitting Machine.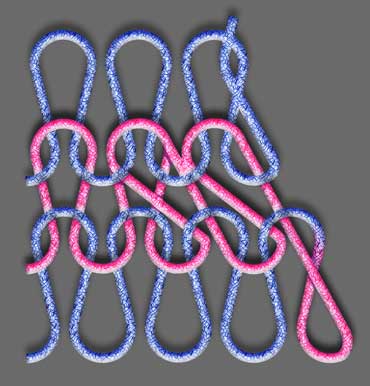 Narrowing
Moving loops at the selvedge inwards is a technique used to narrow a piece of fabric.  This process takes needles out of use and subsequent courses contain less loops.  The innermost loop is placed onto a needle already occupied by a loop and a fashioning mark is created.  The fabric is slightly thicker than the surrounding fabric at the point where two wales merge into one.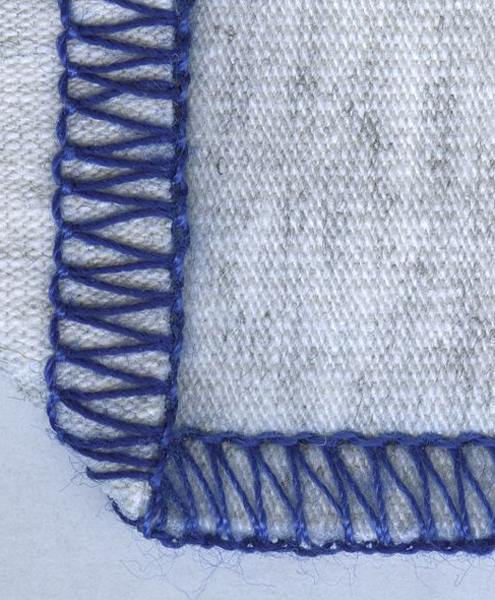 Overlocking
Overlocking is a method commonly used to join pieces of cut and sew work.  The thread passes through the two pieces of fabric and over their edges.  This process not only joins the pieces of fabric, but also prevents the fabric from fraying along cut edges.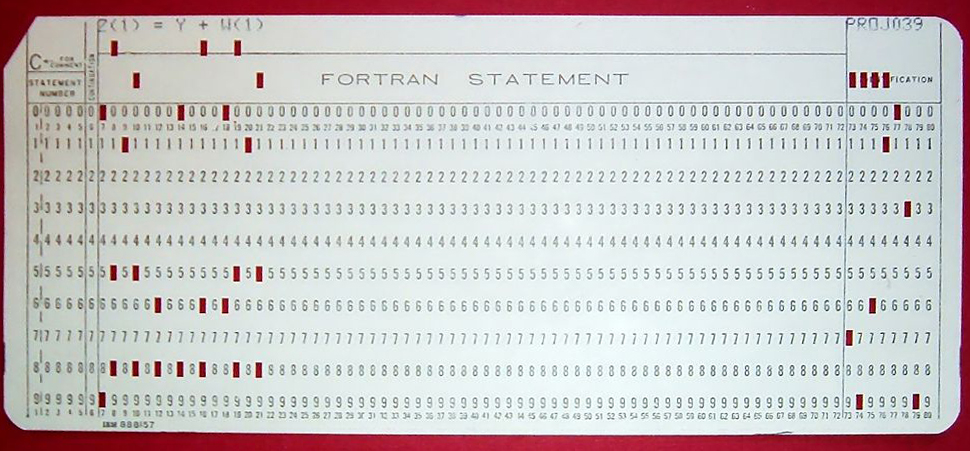 Punch Card
A punch card is a piece of card with holes punched into it in order to control the knitting machine and processes.  The cards are arranged in order and placed on a chain.  The chain rotates and brings different cards into use as the knitting process progresses.  Selectors fall into holes to activate tasks such as yarn carrier selection, knitting cam position and needle bed position.
Purl Knitting
In its simple form alternating the loop-faces (1x1) produces a purl knitted fabric.  One course is knitted with the face to the front and the next course is knitted with the reverse to the front.  Purl fabric is knitted on two beds to achieve the reverse.  A double-ended latch needle slid between two beds can also be used.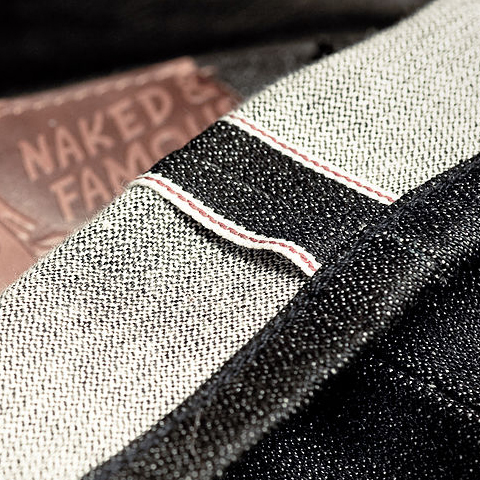 Selvedge
The selvedge is an uncut edge of a knitted piece.  It is formed at the end of a course where the yarn returns to start another course.  Sewing through the selvedge to join two pieces of fabric together creates a fine seam.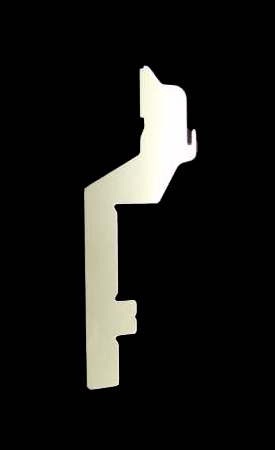 Sinker
A shaped thin piece of metal used to perform a number of tasks in the loop formation process.  Sinkers are generally placed at 90° to the needle bed and in the case of Lee frames, can either be fixed to a bar or held on the end of a pivoting lever (jack sinkers).  The sinkers fall between needles and form loops from yarn laid across the needles.  Subsequently they are used to move the course of loops on and off the needle.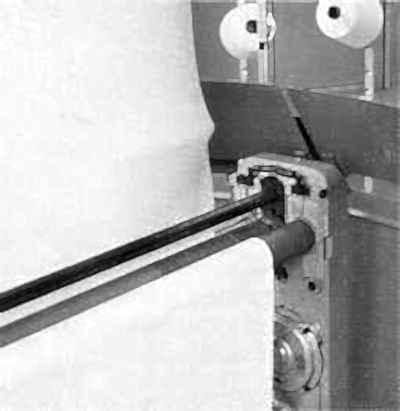 Takedown
In order to ensure that loops are the same size from one course to another, the knitting process needs to maintain a consistent tension on the yarn and fabric as it is formed.  Framework knitters using Lee's stocking frame hung weights from the fabric as it was knitted.  Later machines included a roller 'takedown system' that pulled fabric down at a set rate and tension.  The system was ideally suited for knitting long rolls of cut and sew fabric that was continuously drawn through the rollers.  Where individual garment pieces were knitted, a string of pieces had to be created by knitting a fine draw thread between them.  This formed a continuous fabric for the rollers to pull down.  The joining thread was removed at a later stage to create individual pieces.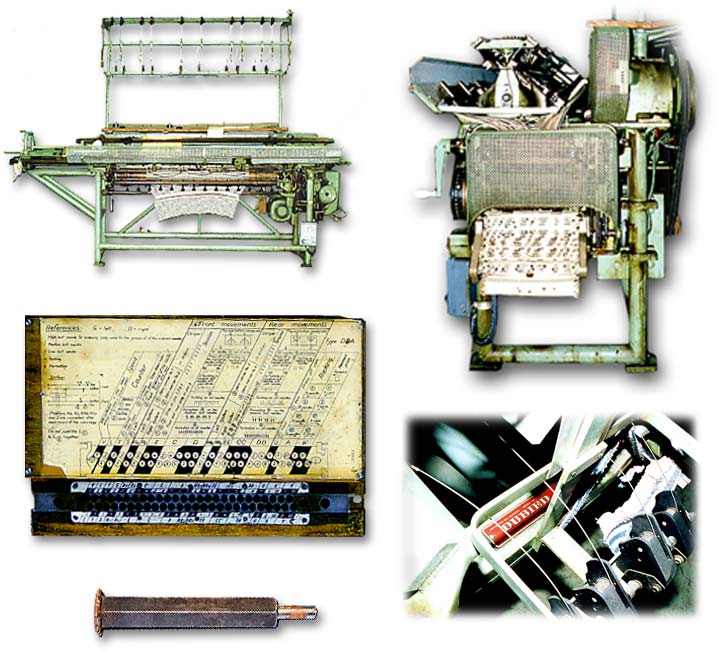 V-bed Knitting Machine
A flat bed knitting machine with two beds angled at roughly 90° in a v shape  It can produce ribbed work.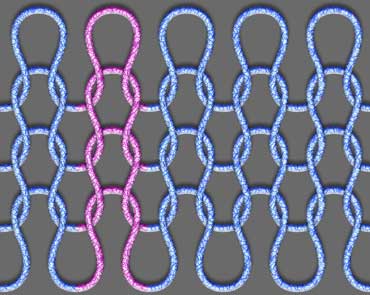 Wale
The term wale is applied to mean a vertical row of loops.  In weft knitting a wale is usually produced by each needle in use.  If the width of a fabric is reduced and two loops are placed onto one needle, two wales will be combined into one.  The point where the wales combine forms what is referred to as a fashioning mark.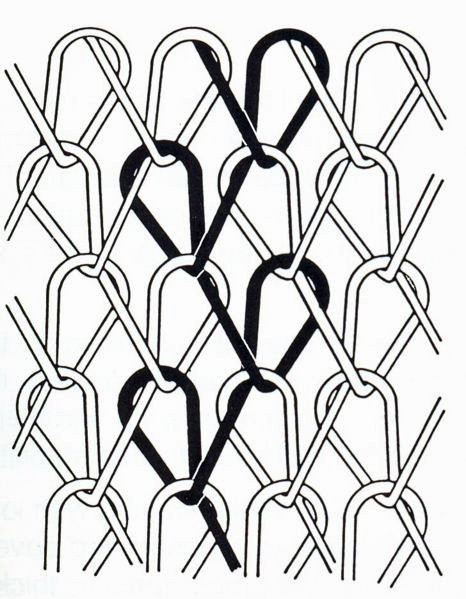 Warp Knitting
The warp knitting process was not developed until the late eighteenth century, two hundred years after William Lee's stocking frames and several hundred years after weft knitting.  In common with weaving, warp threads run continuously through the length of the fabric and each needle has its own yarn feed.  The process zigzags threads across needles and forms loops around adjacent threads to build up a fabric.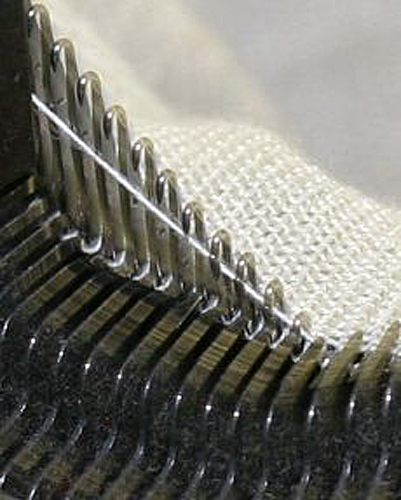 Weft Knitting
The structure of weft knitting is based on a thread forming loops across a horizontal course.  Hand knitting, Lee-type frames and many other knitting machines produce weft knitted fabrics.  This differs from warp knitting where multiple threads are used and the loop structure runs vertically along the length of the fabric.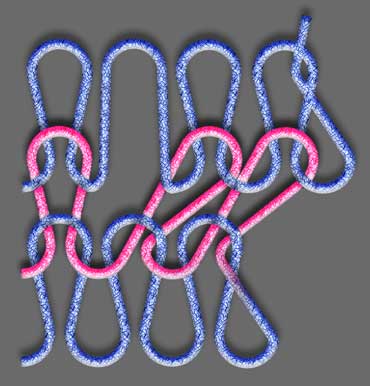 Widening
Moving loops at the selvedge outwards is a technique used in fully-fashioned knitting to widen pieces of fabric.  This process brings more needles into use and subsequent courses contain more loops.  The small gap created by moving loops outwards is known as a fashioning mark.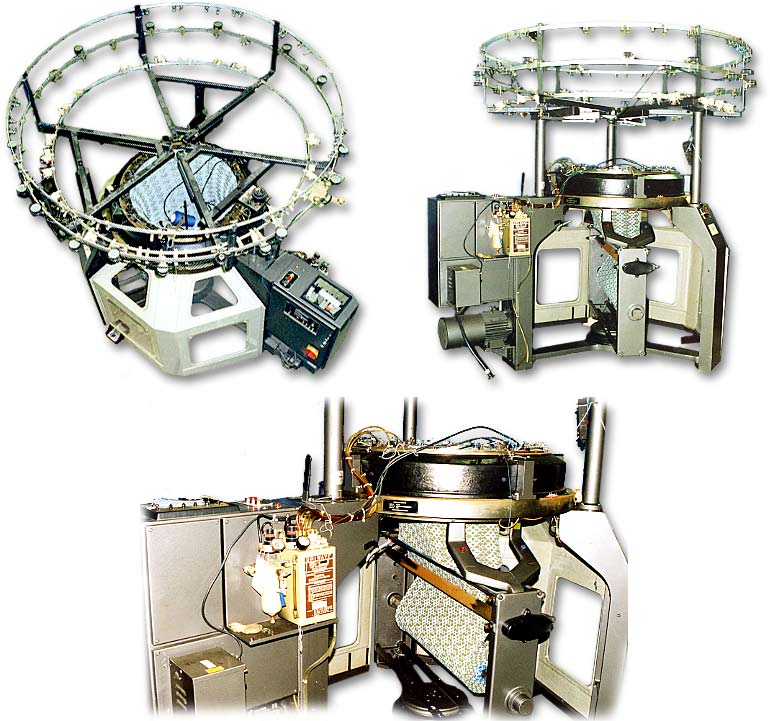 XL Circular Knitting Machine
Normally used for sock production the XL was the first double cylinder machine when Stretton and Johnson of Leicester patented it in 1900.  Stretton and Johnson approached manufacturers Spiers and Grieves of Leicester to produce the machine and it became commercially available in 1902.  The double cylinder consisted of one inverted knitting head located above a second upright head.  The machine used Matthew Townsend's double-headed latch needle to transfer loops between the cylinders and was capable of knitting a ribbed fabric as well as plain fabric.  Other double-cylinder machines such as the Bentley Komet soon followed the XL.