Changing Products
In the second half of the eighteenth century there were a number of advances in the development and use of knitting-frame technology.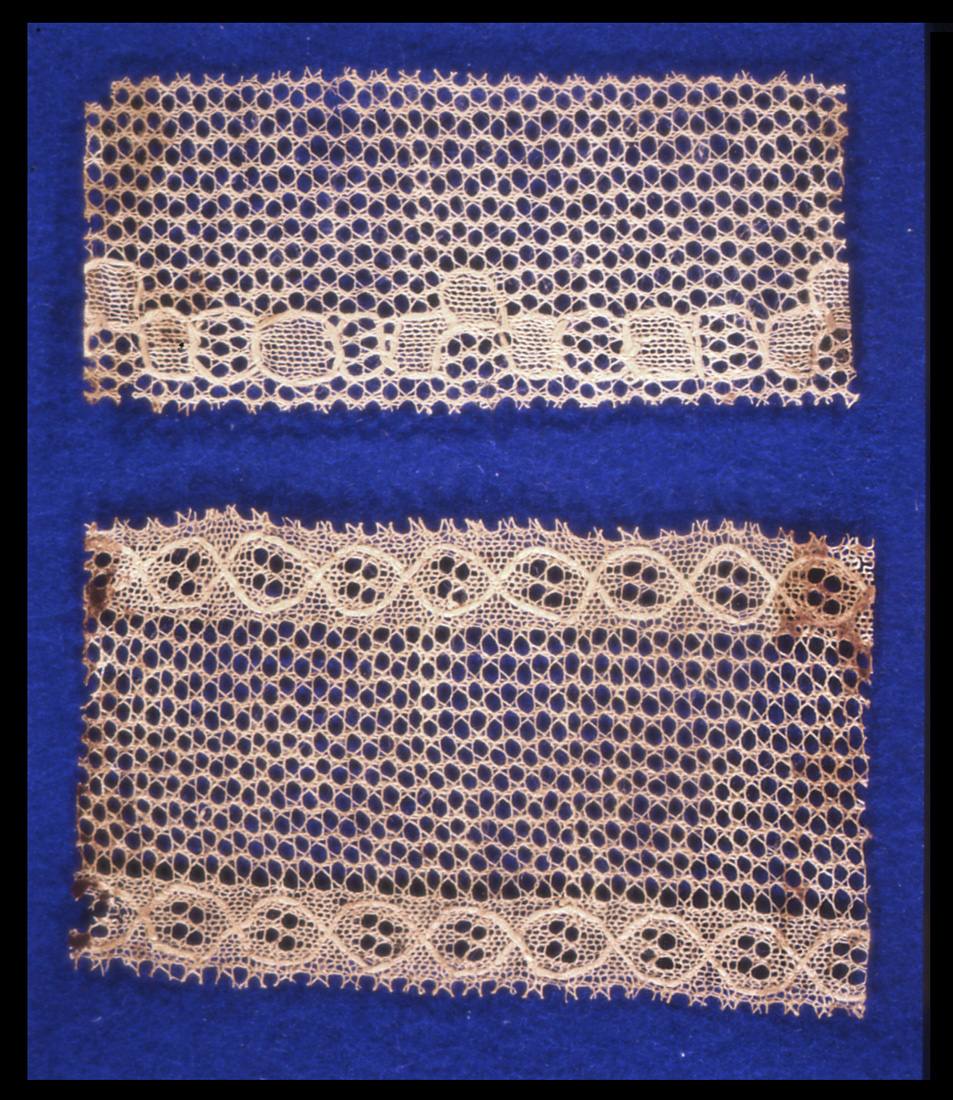 These followed on from Jedediah Strutt's patent for his Derby Rib machine in 1758, which created a more elastic fabric.  Hose made using this type of fabric soon became more popular than hand-knitted stockings.  With money to be made from successful inventions, many individuals invested time and money in experimenting with new adaptations and patterns.
Simulated lace
In 1763 John Morris, a hosier from Nottingham, patented a frame that produced an eyelet hole mesh.  The fabric created simulated lace and was widely used for Spanish silk mitts, gloves, aprons, handkerchiefs, hoods and caps.  The frame produced eyelet holes by placing a set of needles on the presser bar and using them to transfer loops sideways between the frame's main needles.  Demand for Morris's products was such that his business operated forty-nine frames with this attachment.
The sales achieved by Morris encouraged others to work specifically in the development of open lace-style fabrics.  Their collective endeavours provided the starting point for the famous Nottingham lace industry.
Point net machine
Morris was determined to stay in control of the knitted lace market and he bought the patent for the point net machine invented by Thomas Taylor, a Nottingham framesmith.  After Morris's retirement, the business and the patents were sold to John, William and Richard Hayne, three brothers from Ashbourne, Derbyshire.  The Haynes continued to improve the point net frame and by 1786 they had managed to overcome the tendency of the fabric to run if a thread broke.  A hexagonal net fabric was used to produce sunshades, aprons, handkerchiefs, caps, mitts, gloves, purses, waistcoats, shawls, cauls, and a range of other goods.
In 1786 there were only around twenty point net frames in existence.  By 1810 there were over 1,500 frames providing employment for 10,000 to 15,000 lace workers in Nottingham.  The Haynes family still dominated the sector and owned two thirds of the point net frames.  Much of their output was exported to Paris, but the silk lace trade suffered heavily at the end of the Napoleonic Wars in 1815 and lead to the decline of the Haynes family business and other early lace merchants.
The industry was revived after the introduction of John Heathcoat's bobbin net machine.  Heathcoat's invention was based on the operations of a cushion lace worker rather than that of a stocking frame.
Warp Knitting
Run-resistant fabrics were also created by the technique of warp knitting, developed in 1776 by a Leicester-born framesmith, William Horton.  Warp frames differed from traditional frames by feeding a separate yarn to each needle.  Individual threads were formed into loops and transferred between neighbouring needles in a zig zag pattern across alternate courses.  Frames were capable of producing plaited, corded, open-work and fancy fabrics for a range of goods.  'Vandyke' stockings of silk or fine cotton with zigzag patterns were produced in large quantities in Nottingham.  The cost of using a warp frame led to the technology being used mainly to create high value nets, laces, trims and ornamental products.
William Dawson, a Leicester mechanic, improved Horton's frame and increased its speed, making it more cost-effective to operate.  Despite the improvement the warp frame was not widely used.  The fabric it produced was used for the 'cut-up' work that workers disliked and considered to be a threat to their fully-fashioned work.  However, warp knitting emerged in the twentieth century as a major part of the knitting industry.