William Iliffe (d. 1688)
Hosier who was reputed to have introduced the stocking frame to Hinckley in 1640.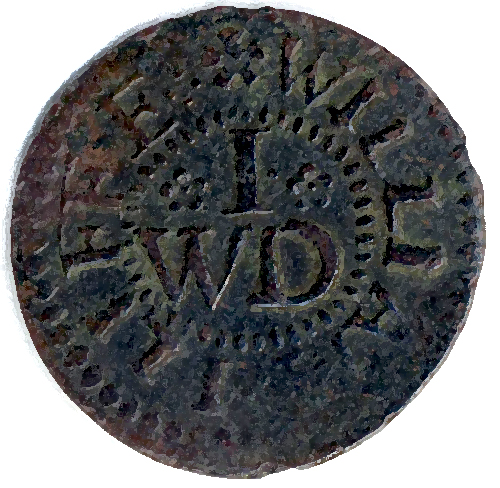 The details of William Iliffe's early life are unknown, but his ancestors appear to have been relatively well off.  James Iliffe, a Hinckley tailor, was sufficiently wealthy to warrant the writing of a will in 1558.  Documentary evidence from the early seventeenth century records the presence of the Iliffe family at the top end of Castle Street, Hinckley.  It is perhaps to this address that Iliffe brought the first stocking frame.  A William Iliffe was also recorded in 1650 as renting a property in the Market Place.  Iliffe may have moved to this address after his marriage to Elizabeth Cleiveland on 6 March 1649.
At a cost of £60, the frame was a substantial investment for Iliffe and provides further evidence that the family was prosperous.  During the Civil War the country experienced a shortage of small coinage and tradesmen struck their own tokens for use in the local area.  William Iliffe struck a token with 'William Iliffe IWD' and on the reverse 'in Hinckley 1661', suggesting that he was a leading figure in the town.
Following the death of his first wife in 1658, Iliffe married Dorothy Bradgate and had a son, Joseph.  In 1682 a William Iliffe rented a 'shop or warehouse' next to the house rented in 1650 in the Market Place.  Iliffe died in 1688.