Richard Arkwright (1732 - 1792)
Inventor of the water frame and mill owner.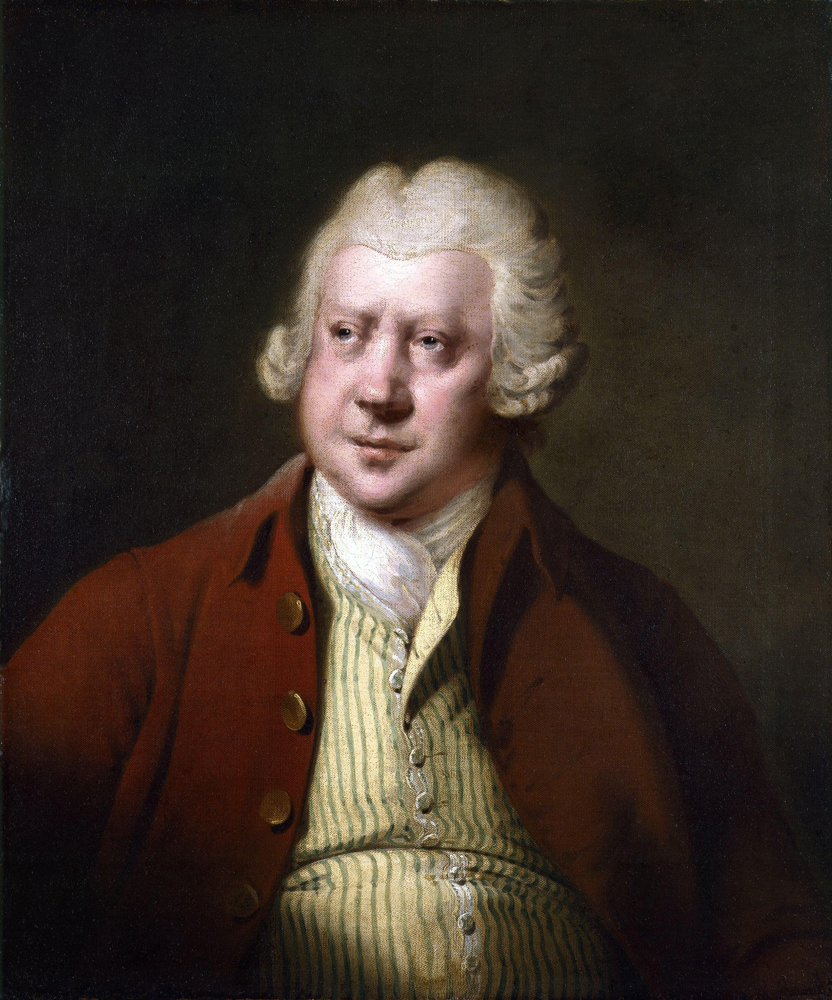 Richard Arkwright was born 23 December 1732 in Preston, Lancashire.  The youngest of thirteen children, Arkwright's family were poor, living off the wages of his labourer father.  With a lack of money to pay for schooling, Arkwright was fortunate to have a cousin who taught him how to read and write.
Arkwright's first trade was that of a barber.  He served an apprenticeship with a barber and by 1762 had his own wig-making company.  While travelling on business Arkwright met John Kay, a Warrington clockmaker, who was experimenting with the spinning process.  Arkwright recognised the potential benefits of the research and employed Kay and other local craftsmen to continue the work.  To avoid the activities of machine-breakers in Lancashire and gain further funding for his research, Arkwright needed to relocate his team.  The East Midlands knitting industry offered a potential market for yarn and the team moved to Nottingham in 1768.  The following year Arkwright secured financial backing for his work from Samuel Need and Jedediah Strutt.
Work by the group resulted in a spinning frame that used pairs of fluted rollers to spin a yarn that was stronger than that produced by the spinning jenny.  A patent was granted in 1769 for the frame to 'Richard Arkwright of Nottingham, clock-maker'.  The frame was too big to be powered by hand and was initially driven by horses at the Nottingham factory.  It was soon realised that horses were unable to provide sufficient power to operate a large number of frames and waterpower was investigated as an alternative.  The sluggish River Trent was unsuitable for use with waterwheels and a mill was built in 1771 next to the River Derwent at Cromford, Derbyshire.
The mill at Cromford was located in a rural area and Arkwright had to attract people from across Derbyshire to work in the mill.  Cottages were built to house the workers and a new village was founded around the mill.  The three partners, Arkwright, Strutt and Need, later built further mills at Belper and Milford.  The death of Need on 14 April 1781 left Strutt uncertain about Arkwright's ambitious plans to build further mills across the country.  Strutt decided not to risk his fortune and dissolved his partnership with Arkwright.
Arkwright continued to reinvest profits and expanded his business empire of mills.  More than 140 further mills were built in Staffordshire, Nottinghamshire, Leicestershire Lancashire and Scotland.  Arkwright used advances in steam-engine technology made by Watt and Boulton and steam-powered mills were constructed at some sites.
In recognition of his achievements Arkwright was knighted in 1786 and appointed High Sheriff of Derbyshire in 1787.  He bought the manor of Cromford in 1789 and started building work on a mansion called Willersley Castle.  The house overlooked the River Derwent and was to have become Arkwright's home, but he died in 1792 in Rock House overlooking Cromford Mill.  He left an estate worth around £500,000, a value of over £200 million in today's terms.